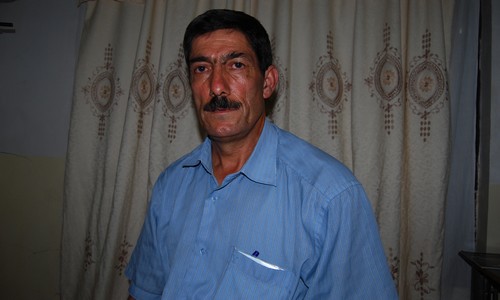 Qasim Keleşî kadrê dêrîn yê PDK Îranê yek ji girtiyên siyasî yê sala 1982'an ku tev 59 xortên Mehabadê ên ku ji aliyê rejîma Îranê ve hatin qetlîamkirin di girtîgehê de bûye. Navbirî serpêhatiya xwe tev wan 59 xortan di dema destbisergeha girtîgeha bajarê Urmiyê de ji Kurdistanmedia re bas kir.
Qasim Keleşî:
Sala 1982'an ji ber ku li gundê me "Kûrê"a jorîn ya serbi devera Enzela Urmiyê xwendingeha navnedî tune bû, min li Urmiyê ders dixwand, yek ji fermandeyên PDK Îranê bi navê "Îsmet Ebdî" ji min xwast ku alîkariya partiyê bikim, min jî ew yek pejirand û min pêwendî bi PDK Îranê ve girt û ez bûm endamê Partiya Demokrat, wê demê. Kek "Îsmet Ebdî" berpirsê teşkîlata partiyê di deverê de bû navbirî hin erk xistin ser milên min û yek ji wan çapkirina hin wêne û nivîsên pêwendîdar bi PDK Îrnaê û pêşmergan bûn.
Dema ku min ew wêne li Urmiyê çap kirin û ez di riya vegeriyan bo Enzelê de bûm, li gundekê bi navê "Sincî" ez hatim girtin û piştî gerîn û pişkinînan derket ku hin wêne û belgeyên partiyê bal min in.
Ez hatim girtin û ji bo destbisergeha girtîgeha Urmiyê hatim şandin. Li wir ez di destbisergehê de mam û her roj lêdan û îşkence lê min îtiraf nekir ka min ew wêneye li bal kîjan wênegirî kişandine, wêca ez birim di nava bvajar de gerandim û birim bal wênegiran. Ez birim balk wênegirê ku min ew wêne balde çapkiribûn û jê pirsîn ku tu wî kesî nas dikî? Ji ber ku ew wênegir jî hevalê şewhîd "Kerem Keleşî" yek ji fermandeyên PDK Îranê û kurapê min bû û got ne ez wî kesî nas nakim, bi her awayekê be wênegir aşkera nebû û min jî heya niha navê wênegir li ba kesê bas nekiriye.
Wê demê girtin li Kurdistanê de pirr bû, wêca kasibkar, şiwan, kedkar û xwendekar bi giştî yê ku bêhna Kurdînî û bi taybetî nêzîkatî ji PDK Îranê lê dihata, digirtin û dixistin girtîgehê.
Di roja 27'ê Reşemeya sala 1361'an a Rojî, 59 kes anîn destbisergeha Urmiyê û gotin evane 59 xortên Mehabadê ne û li ser pirsên kurdîniyê hatine girtin, ji wan 59 kesan jî tenê du kes temenên wan 27 û 30 salî bûn, ên din ji 18 heya 25 salî bûn û yek ji wan jî xwendina seretayî hebû, lê dersa melatiyê xwendibû. Ên din bi giştî xwendevan û rewşenbîr bûn.
Ji ber ku heyamê du mehan bû ez di destbisergehê de bûm û min hin nasyar peyda kiribûn, ez gel wan 59 xortan nasyar bûm. Dema ku malbata min hatin bo serdana min, gotin: "Mamend Bêkes" yek ji fermandeyên PDK Îrnaê yê xelkê Mehabadê hatiye mala me û gotiye ku 59 xortên xizm û nasyarên min li "Mehabad"ê hatine girtin û bo "Urmiyê" hatine veguheztin û canê wan di metirsiyê de ye.
Wê demê min zanî ku ew 59 xort li ser pirsên siyasî û netewî ku pirranî jî endamên PDK Îranê bûn hatine girtin, êdî ez ji wan piştrast bûm û bi wan re bûm hevxem û hevxerc. Wê demê jî hin kesên biezmûn ên devera Urmiyê di destbisergehê de hebûn û mirovên pirr xweşnav nebûn, gotin min: "Tu çawa gel wane dibî hevxerc, ewane mirovên nebaş û cihê metirsiyê ne". Lê min guh neda wan gotinan, ez û ew 59 xortên şoreşgêr ên Kurd re bûm heval.
Yek ji wan xortan bi navê "Kemal", cihê razana min û wî bi hevre bû û wî serpêhatiya xwe ji min re digot.
Kemal di got: "Me her 59 kesan ji bo wefadarî bi Kurdîniyê mîna endamên Komeleya "J- k" ji hev re sûnd xwariye ku em îxanetê bi hev û bi tu Kurdekê nekin. Ji me re şanazî ye ku em li ser Kurdîniyê hatine girtin, lê ya ku me azar dide ne ev e ku renge me bikujin, belkî ev e ku hêj temenê me kim e û me nekarî weke hewce xizmet bi netewa xwe bikin."
Qasim Keleşî ji qala serpêhatiyê berdewam bû û got: Ez heyamê du meh û 7 rojan gel wan xortan hevbend bûm û piştî ku malbatên me di hatin serdanê û bi hevre nasyar bûn û zanîn ku em hevhizr in, wêca têkiliyên me bi hev re û baweriya me bi hev pirr zêdetir bû.
Me şev û rojên xwe di destbisergehê de derbas dikirin û bi roj dema em derdikevtin hewşê, me topek hebû me ji xwe re dilîst, di lîzê de ez û yek ji wan xortan bi navê "Seyd Mehemûd" çon cihekê rûniştin û wî ji min re got: "Kak Qasim min îşev xewnek pirr nexweş dît. Min ji xewa xwe dît ku em dibirin derve û ji hev dûr dikirin û me daxwaza alîkariyê ji te dikir û te alîkariya me nedikir, ez pirr ditirsim em ji hev dûr bikevin".
Ez pirr xemgîn bûm û min jêre got guh ne nede xewnan û ew tiştên xurafî ne, xwe xemgîn nekin û gelê Kurd hemû di hizra we de ye û axaftinên wî awayî ji bo ku hin dilê wî şa bibe.
Carekê ew hemû hatin gazîkirin, û wan jî alavên xwe teslîmî min kirin. Dema ku zîndanban û karbidestên destbisergehê dîtin ku wan alavên xwe dan min û pirr bawerî bi min hene, ji min bi guman ketin û ez jî gazî kirim, lê çiqas givaş xistin ser min ku çawa ez wan nas dikim û çima min bawerî bi wan heye, min qey tiştek negot, tenê min got ku ew mirovên paqij in û hevtemenên min in lewma min têkilî bi wan re heye.
Ew mirovên netirs û wêrek bûn, ji axaftina xwe de tucaran li hember meimûrên dewletê tirs nedixistin dilê xwe û gotinên xwe digotin. Rokejê em li benda xwerinê bûn û yek ji berpirsan gote yek ji wan xortan bi navê "Salih": "Tu gelik zêde diaxivî û axaftinên te manadar in". Salih di bersivê de gotê: "Dema ku em di vê baweriyê de bim ku nabe axaftinên bi dilê xwe bikin û ji we re serî bitevînin, me dê li Mehabadê xwe bêdeng bikira û we em nedianîn vir, lê piştrast be ku em sûndxwariyên hev in ku em di her demekê û li her cihekê berevaniyê ji netewa xwe û partiya xwe bikin. Ji vê yekê jî piştrast bin em ew 59 kes ji were tiştek nabêjin ku dilê xwe xweş bike, emê her 59 kes bin û bi îtirafa me yek kesê din jî nakeve destên we, ji me re mirin negirîng e, ya girîng ev e ku em li hember gelê xwe wefadar û rastbêj derkevin. Lê me tiştek nebaş nekiriye, me kesek nekuştiye, tenê li Mehabadê rêpîvanek hebûye û em jî beşdar bûne, we jî bi tometa endametî di partiyan de de em destbiser kirine, ku wa ye gişt gelê Kurd li Kurdistana Îranê endamê partiyan in, gelo wê çêbe gelê Kurd yek bi yek bihên girtin û têkevin girtîgehê?"
Piştî wan axaftinan salih birin û zêde îşkence kririn û riftarên pirr xirab pêre kirin, û ew vegerandin bal me. Me ji "Salih" re got ku wuha nabe, her roj yek ji we dibin û îşkence dikin û endamên laşên we jikar dixin, hin xwe ji axaftinan biparêzin! Wî got: "Erkê me berevanî ji gelê me ye"
Bi rastî jî piştî 29 salan dema ez ji têgihîştin û berxwedaniya wan difikirim, mirovên niha tiştek ji wan zêde nakin û zanabûn û şoreşgêriya wan taybetî bû. Dema ku canê mirovan dikeve metirsiyê, bi awayekê hewlekê dine yan sistiyekê ji bo parastina canê xwe dike, lê wan di lêpirsînan de li hember rayedarên rejîmê de gavek jî paşve nedavêt. Niha jî ku ez di xebatê de mame û bi derbaskirina qonaxên cur bi cur û pirr zehmet di ehyamê 30 salan de, seba wê îmanê bûye ku ez ji wan hîn bûme.
Rojek ji rojan, ku bû cara dawî, em nêzîk 90 kesan di destbisergehê de bûn, çend meimûr hatin destbisergehê û gotin ew 59 kese bo demjimêr 6'ê sibê amade bin!!!!!
Êdî me zanî ku dê çi bê serê wan, em heya serê sibê bi hevre rûniştin û me axaftin kirin. Wan jî li demjimêr 1'ê nîvaşevê dest bi xatirxwastinê ji hevalan kirin û digotin êdî em navegerin!!. Ji wan 59 kesan tenê kesekê hin rondik barandin ên din bi moralek bilind sekinînbûn û rengê riya berbi mirinê ji rûyê wan ve nexuya bû. Heya serê sibê êdî bi yekcarî xwatirê xwe ji me xwastin û wê demê jî du bira hebûn wan her duyan jî hin rohdik barandin, lê yek ji wan got: "Em ji bo vê nagirîn ku dê me bikujin, belkî em ji bo hevalên xwe digrîn ku êdî em we nabînin, ya dinê jî ev e ku êdî dema me bidawî hat û me nekarî pêtir xizmet bi gelê xwe bikin. 57 kesên din jî bi kenî û girnijîn û şanazî ve ber bi riya mirinê birê ketin.
Ew birin û piştî heftiyekê malbata min bo seredana min hatin û ji min re gotin ku ew 59 xortên Mehabatê bi hev re îdam kirine. Kul û kovanên ku çawa 59 xortên welatê min ku heryek dikare di xebata netewî de bibandor be û bi vê nasîna ku min ji wan heyî, her yek ji wan dikarî rêberek be, ji her tiştî jî nexweştir, her 59 kes hevalên min birin û dawî bi jiyan û xebata wan anîn, jiyan ji min kir dozex. Di heyamê nêzîkî salekê de piştî îdama wan di girtîgehê de, dema sifredanîn û aman şuştin û razanê cihê wan ên betal diket ber çavên min û hizra min, tu zimanek nikare giraniya wê êş û azarê beyan bike.
Piştî heyamekê dema malbata min hatin bo dîtina min, gotin ku pêşmergeyên hêza Bêstûn a PDK Îranê ji bo tolhildan 59 oparesyon encam dane û derbên giran ji rejîmê xistine. bi bihîztina wan gotinan min hest kir ku her 59 kes sax bûne û hatine bal min. Çimku ez ji wefadariya partiya xwe ji gelê xwe re piştrast bûm
Heya heyamek din hin kesên din hatin girtin û yek ji wan xelkê Mehabadê bû û xalê yek ji wan 59 xortan bû, tev min bû heval û di got: Ger tiştek wan bicih maye, bidin min ku weke yadgarî heye heya bal min bimîne, lê min gotê tenê xwatirê xwe ji me xwastin, tiştek wan tiune bû ku bidin me.
Di dawî de ez weke "Qasim Keleşî" yek ji hevalên wan 59 xortên Mehabatê, her rojeke xebata xwe bi wan re parve dikim û ew di dilê min de zindî ne û bi bawera min ew hest û berxwedaniya ku wan hebû ew heya heya zindî ne û di xebatê de beşdar in.
Rejîma Komara Îslamî dujmin e, eyane ku herdem dixwaze me bikuje, lê ya pirr ji min giran tê, ev e ku bi navê îslamê Kurdên Bisilman dikuje.
Ez hêvîdar im ku xortên welatê me û nifşên pêşde jî tucar xwîna wan 59 xortan jibîra nekin û ji bo armancên wan ku rizgariya Kurdistanê, cihgîrbûna sîstemek dekomratîk û azad di Îranê de û herweha serbestiya gelê Kurd e, ji tu hewlekê kêmasiyan nekin.