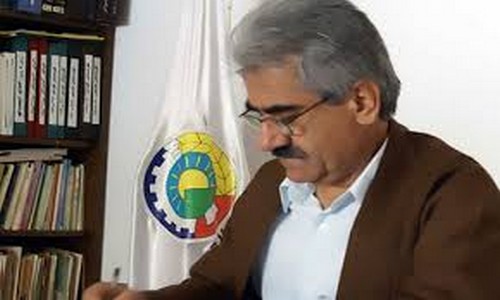 Kurdistan Media: Kovara "Sivîl" gotûbêjek bi birêz Mistefa Hicrî, Sekreterê giştî yê PDKÎ derheq pirtûka"Nisko û Dabran" ji nivîsîna Mistefa Hicrî û rêketina navbera rejîma Îranê û gurûpa 5+1 pêk aniye.

Deqa gotûbêjê bi awayê jêrîn e:(Beşa 1)

Sivîl: Tê gotin ku zirarmendê sereke yê rêketina navbera 5+1 û Îranê, hêzên opozîsyona rejîma Îranê ne bi partiyên kurdî ve. Heya çiqas bi vê yekê re yî?

Mistefa Hicrî: Rêketina han bi zirara xelkê Îranê bi dawî nabe ku xelkê rojhilata Kurdistanê jî beşek ji xelkê Îranê ne, çûnkî li warê aborî ve dê vegeşe û renge derfeta karên zêdetir biafire, helbet ne bi wî şêwe û rengê ku niha xelkê Îranê çavnihêriya wê dike. Ji ber ku asta çavnihêriya xelkê gelek jorde çûye û rastî jî titek din e. Lê ji aliyek dinê ve, me jêwaye ku niha Komara Îslamiya Îranê li warê aborî ve li rewşek pir xerab û şepirze de ye û her ji ber vê yekê ye ku amade bû guftigoyê bi Amerîkayê re bike. Amerîkayek ku bi salan e bi Şeytanê mezin nav tîne û her ji rêber ve heya desthiatdarên din ragihandibûn ku ew tu carî bi Amerîkayê re nacivin. Lê me dît ku guftigo kirin û li hember şert û mercên Amerîka û rojavayê de jî stûxwar bûn. Lewre dema ku dorpêçên aborî li ser wan bên rakirin, bêguman dê destê wan vekirîtir be li maytêkirina di kar û barên welatên deverê û givaşxistina ser neyaran jî dê li derwe de zêdetir bikin. Opozîsyona kurd ya Îranê jî ku beşek sereke a neyarên rejîmê ye û niha li Başûra Kurdistanê de akincî ne, dê zêdetir bukewine ber givaşan. Her çiqas ku heya niha Komara Îslamî çi ji dest hatiye, encam daye, lê niha şûnde dê dest vekirîtir be.

Sivîl: Hûn bawer in ku rejîma Komara Îslamî dev ji durûşm û xewna kevnare xwe ku bidestxistina çeka navikî ye bîne û bi salan e ku xelkê welatê xwe tûşî belengaziyê kiriye? Wate bi raya we Îran micid û rastgo ye li vê vê rêketinê de û gello dê pabend be jêre?

Mistefa Hicrî: Rejîma Îslamî ya Îranê taba wan hemû zirar û ziyanên bi sedan mîllyard dolarî kir ku bi aboriya wê ket û xelkê Îranê jî tûşî hejarî, bêkarî û felaketan kir û Îran ji aliyê civaka navnetewî ve hate îzole kirin. Evane tevde di pêxema bidest xistina çeka navikî de bû daku rejîma xwe pê biparêze. Lê me dît ku pirograma navikî kirîzên mezin bi dû xwe re anîn. Lewre ger teslîm nebe û erkên xwe li vê rêketinê de bi başî bi cih negehîne, tehrîm û dorpêç dê her i cihê xwe de bimînin. Wate wê demê li warê aborî de tûşî pirsgirêkan were û nikare welat îdare bike. Lewre dîsan jî bo parastina sîstem û rejîma xwe jî dê bi neçarî teslîm bibe nek bi dilxwaza xwe.

Sivîl: Lê ya ku Îranê di vê rêketinê de bidest xistiye, 10 salan berî niha jî dikarî bidest bixe bi bêy wê ku xelkê Îranê tûşî ewqas felaketan bike. Gelo eva nahê wateya wê ku Îran li biyavên menewî û siyasî de dorandiyê sereke yê vê rêketinê ye?

Mistefa Hicrî: Bêguman Îran dorandiyê sereke yê vê rêketinê ye. Min di nivîsekê de îşare bi vê yekê kiriye ku rêketinnameya han vegeriyan e bo xala sifrê. Wate gava ku hêj dest bi mehandina Uraniyomê nekiribû û dorpêç jî bi ser de nehatibûn sepandin. Niha piştî ew hemû zirarên aborî û durûşman, vegeriya ser xala destpêkê. Wate Îranê zirarek zaf kir, lê rojava tu tiştek ji dest nedaye, belkî destkewtên zêde jî bidest xistin û gihîşte armancên xwe. Ya herî girîng jî eva bû ku rejîma Îranê nekarî bigihîje çeka navikî. Helbet ger rejîma Îranê li ser xwast û bernameyên xwe pêgir bûya, bas ji êrîşa leşkirî dihat kirin. Lê niha rojava tenê bi got û bêjan û bêy tu hezîne û têçûyan karî Komara Îslamî biçokde bîne û mercên xwe bi ser de bisepîne. Lewre li vê rêketinê de tenê yek dorandî heye, ew jî Rejîma Îranê ye.

Sivîl: Bandora wê rêketinê li ser Herêma Kurdistanê çawa dibînî? Bi raya we ew hejmonî û pêgeha ku rejîma Îranê li herêmê de heye, piştî rêketinê dê zêdetir be?

Mistefa Hicrî: Bê guman armanc û hemû tekoşîna rejîma Îranê bona zêdekirina hejmûniya xwe ye. Dixwaze bi Îraqê re bi awayekê û bi Herêma Kurdistanê jî bi awayek din siyasetê bike ku gor dilê wê be. Bêguman piştî vê rêketinê jî dê dê hejmonî û desthilata wê zêdetir be. Ji ber ku baştir dikare aîkariya hevalbendên xwe û gurûpên jêr nifûza xwe li deverê de bike. Lê pirsiyar ev e ku Rojava ku berjewendiyên zêde li devera Rojhilata Navîn de hene, gelo dê rê bi Îranê bide ku gor dilê xwe desttêwerdanê li kar û barên welatan de bike? Ji ber ku niha em dibînin hin berxwedanî li hember tevgerên Îranê li deverê de dest pê kirine. Bo mînak Hosiyên Yemenê ku ser bi Îranê ne û Îranê pêşbîniya wê nedikir ku berbirûyê reaksiyon û dijkiriya ereban û helwesta rijd ya rojavayiyan bibe. Lewre renge weatên Rojavayî Îranê neçar bikin ku balans û hevsengiyê biparêze û wekî niha qadê jêre vekirî nehêlin.

Sivîl: Hûn wekî rêberê partiyek bibandor a Rojhilata Kurdistanê, bi bihîstina nûçeya vê rêketinê tûşî nîgeranî yan bêhêvîtiyê nebûn, bi taybetî derheq pêşeroja xebata siyasî û çekdarî ya we li rojhiata Kurdistanê de?

Mistefa Hicrî: Na ez rastî tu nîgeraniyekê nehatim û bo min ne tiştek taze ye. Ji ber ku gorî nirxandinan û hin zaniyariyên ku min hebûn, berî got û bêjên Jinêvê, yanî sal û nîvek berî niha min nivîsek weşand û min îşare bi vê kiriye ku ji ber çend sedeman Komara Îslamî dê li wan got û bêjan de teslîmî rojava bibe. Min pêşdîtina wê rêketinê kiribû. Niha ku geek kes bi guman in ka gelo li meha 6an de dê bi rêketinê bigihîjin an an, ê ez li vê bawerê de me ku dê bi rêketina dawîn jî bigihîjin. Ez di vê bawerê de me ku Îran dê bi tewahî pabendî rêketinê be, xincî wê tu rêçareyek din nine. Helbet eva jî ne ji ber xelkê Îranê, çûnkî xelkê Îranê li vê rêketinê de tiştek wusa bidest naxin. Lê Komara Îslamî ji ber wê komara Îslamî ye ku li gor îdeolojî û yasaya bingehîn a xwe bikare şoreşê bo derwe bişîne. Ji ber ku Komara Îslamî dibe ku niha şerê Sûriyeyê birêve bibe, hevkariya Hizbulaha Lubnanê bike, alîkariya Hosiyan bide û zaf gurûpên terorîstî ên din jî li deverê de pirçek bike û hevkariya wan bike, ger pareyê wê nebe, nikare bibe Komara Îslamî, lewre neçare serê xwe bitewîne û teslîm bibe.

Sivîl: Helwesta partiyên Başûra Kurdistanê li hember hewl û xebatên Îranê bo sepandina hejmoniya xwe bi xasmanî li herêmê de çawa dibînî? Bi raya we gorî hewce karîne li hember hejmonîxwaziya Îranê de bisekinin, yan na teslîmî Îranê bûne?

Mistefa Hicrî: Ez bawerim niha her tişt eşkere ye û tştên veşartî nemane. Rejîma Îranê li hemû Îraqê û heta li Herêma Kurdistanê de jî pêgeh û nifûzek yekcar zaf heye. İ başûra Kurdistanê de jî desttêwerdanê dike û pirsgirêkan diafirîne û berdewam li hewla fitnegêranê de ye. Ez bêguman im ku piraniya wan kêşe, dubendî û dijberiyên li navbera hêzên sereke yên Başûr de, bi desttêwerdan û fîtika Îranê ne û çiqas jî bikare dê berdewam be li afirandina wan ajawe û dubendiyan de.

Sivîl: Hûn ku li devera kesk û bin bandora Yekîtiya Nîştimanî de ne, gelo nizîkatiya wê hêzê ji Îranê bûye sedema givaşên zêde bo ser we? Yan sînorê çalakiyên we nehatiye berteng kirin?

Mistefa Hicrî: Heya niha em li çalakî û kar û barên siyasî de azad bûne, me tv û dezgehên ragihandinê hebûne, beşa eşkere ya partiya me bi rêberiyê vejivir ve sefera derwe dikin, bi her kes û cihekê re ku armanca me be, em dîdar û hevdîtinan êk tînin. Heya niha tu asteng û giriftek i ser riya me nehatiye çêkirin.

Sivîl:Lê rexneyek ku pêtir rewşenbîr nivîskarên ser bi we digrin, eva ye ku partiyên kurdî yên rojhilata Kurdistanê rola paşkotiya partiyên sereke yên başûr dibînin, bo mînak li meseleya bedarîkirin li şerê Daişê de?

Mistefa Hicrî: Eva belgeya paşkotiya me bo aiyekê nagehîne, belkî belgeyek e li ser vê ku em weke partiyek siyasî bi durustî reftar û tev digerin. Siyaseta me li gel PKK yan aliyên din re bi ferq e. Em bawer in ku partiyên Başûr, Rojhilat, Bakûr Rojava tev de dibe li çarçoveya wê beşa ku têde dijîn kar û çalakiyan encam bidin û i pêxem azadî û mafên xwe de xebatê bikin. Erk û wezîfeya me ew e ku alîkariya pêşdeçûna xebatê li hemû beşan de bidin û piştewaniya wan bikin.lê piştewaniya han li demekê de ye ku bi xwe daxwaz bikin, ji ber ku em li ser vê bawerê ne ger ku bi xwe daxwaz nekin û bi awayek xweser i eniyek şer yan her karekî din de beşdariyê bikin, eva tê wateya maytêkirin û desttêwerdanê. Dema ku daxwaz ji me hat kirin ku em pêşmergeyên xwe bişînin eniya şer, me wek erkek neteweyî ew kar encam da. Paşan jî me bi wan re ragihand ku her dema ku ew daxwazê ji me bikin, dîsan jî hêzên me amade ne. Dema ku sipasiya me jî kirin û gotin me hewcehî bi we nine û vekişin, me hêzên xwe vekişandin. Lewre eva bi tu awayî nahê wateya paşkotiyê. Dibe ku hemû kurdek rêzê ji yasa û sînorê herêmê re bigre.

Sivîl: Madam helwesta we rêzgirtin e ji yasa û serweriya herêmê, eva ku hêzek din bê pirsa herêmê dike, bo mînak PKK li Şengaê de, gelo binpêkirina vê serwerî û yasaya herêmê ye?
Mistefa Hicrî: belê, ger bi bêy daxwazî û rizamendiya hikûmeta Herêmê be û bixwaze desttêwerdanê bike, eva binpêkirina serwerî û yasayên wê beşa nîştiman e.
Sivîl: Yek ji wan rexneyên ku ji PDKÎ tê girtin, eva ye ku keysa wan 250 kadran ku di salên 90'î de bi destên Komara Îslamiya Îranê hatin teror kirin, di dadgeheke herêmê de, yan jî di dadgeheke navdewletî de, we nekariye li dijî Îranê bi kar bînin?

Bersiv: Piraniya wan bûyeran ku hatin pêş, demekê bûn ku hêşta Hikûmeta Herêmê pêk nehatibû, di heyama di navbera paşekêşeya hêzên Sedam Husên heya pêkhatina Hikûmeta Herêma Kurdistanê, di vê heyamê de hejmareke zaf ji kadr û pêşmergeyên me, û rêkxistinên din ên siyasî ên dijberê Îranê hatin terorkirin. Wê demê tu deshilatek nebû, ku vê pirsê bişopîne, hêzên siyasî jî renge bi sedema vê dijberiya ku digel yektir hebûn, bi taybetî YNK û PDK, nexwastin yan jî nekarîn bi awayê hewce vê erka li ser milên xwe cî bi cî bikin, û wan terorîstan bişopînin û wan bibînin, û wan ceza bikin. Jiber ku ew terorîst her hemû jî diyar e ku ji aliyê Komara Îslamiya Îranê ve têne rêkxistin, û em jî xeynî Komara Îslamiya Îranê, tu kes û aliyekî din wekî neyarê xwe nahesibînin, û derheq wan kadr û pêşmergeyên terorkirî de jî, dibe belge bi awayekî bin ku di dadgehê de bêne qebûlkirin, ew belge di ber destên me de nînin. Rast e ku em beşeke zêde ji wan terorîstan nas dikin, lê belgeyên yasayî di ber destên me de nînin, da ku em bikarin wan radestî dadgehê bikin, û aliyê din jî haşayê dike, lewra eva di dadgeheke navdewletî de nahê kirin.

Sivîl: Lê aliyê kêm di ragehandinan de wê dengvedan hebe, ku dosiyeya terorkirina bi sedan kesî li dijî Komara Îslamiya Îranê hatiye ber basê?

Bersiv: Di kom û civînên navdewletî de, û digel wan welatên Rojavayî ku me pêwendî bi wan re heye, hertim me bas ji vê pirsê kiriye, lê heya niha wekî keyseke yasayî me nedaye tu dadgehekê.

Sivîl: Tu yek ji wan terorîstên ku hûn dibêjin hejmarek ji wan nas dikin, di herêma Kurdistanê de mane, ku bi azadî bigerin û lêkolîn jî bi wan re nehatibe kirin?

Besiv: Belê hene.

Sivîl: Hene ku di pêgeha deshilatê, yan serkirdayetiya partiyan de bin?

Bersiv: Tak û tak di pêgeha deshilatê de jî hene.

Sivîl: Heya niha jî metirsiya wê terorê li ser kadrên we her maye?

Bersiv: Ew metirsî tu carî li ser me nereviyaye, lê niha ku terorên din bi rê ve neçûne, du sedemên wê hene, yekem: Em bi xwe di rabin û rûniştinên xwe de gellek hişyar in, û ya duyem: Komara Îslamiya Îranê jî ku niha hatiye vêdedan, berbirûyê arîşeyên siyasî ên mezin bûye, renge heya niha bi hewce nezanîbe, ku dirêjiyê bide terorên xwe, lê qet dev ji vê yekê bernedaye ku sîxoran bişîne nav me de, û kêşeyan me re pêk bîne, û zanyariyan kom bike. Renge di demek din de, ku di warê siyasî de, bi xwe bi baş bizanin, karê terorîstî jî dest pê bikin.

Sivîl: Reformxwazên Kurd di Îranê de hûn çawa dibînin? dawî car, helwesta wan dibe bergirî ji Komara Îslamî, yan bergirî ji mafê Kurdan?

Bersiv: Bi baweriya min reformxwazên Îranê bi giştî û yên Kurd bi taybetî li pey kumê babirîê xwe ketine. Ya ku niha gellek eşkere ye, reform yek ji taybetmendiyên hikûmeteke demokratîk e, di wir de ye ku reform tê pêş, niha ku kêm û kasiyek heye, û xelk zextê tîne, bi xwe de diçe, û dizane ku şaşiyek kiriye, şaşiya xwe sererast dike, û pêngav bi pêngav diçe pêş, eva reform e. Lê di welatekî de ku yasayên xwe wekî yasayên esmanî dihesibîne, jêve ye ku yasaya herî tewaw e di cîhanê de, û çavkaniya wê jî şerî'eta Îslamî ya wilayeta feqîh e, di wî welatî de çawa dikarî reformon bikî?

Herwekî hûn dibînin di heyama 36 salên borî de, di rejîma Îranê de hekî guhertinek hatibe kirin, ew guhertin ber bi paş ve bûye, û roj bi roj jî tundûtîjtir bûye. Bo mînak di dema hilbijartinan de soz didin ku wek çawa di dawiya hilbijartinan de, Hesen Rûhanî hat û gellek soz dane Kurd û xeyrî Kurdan, lê li gora serjimêriyên cîhanî, û yên wan bi xwe jî, hejmara bidarvekiriyan di wê heyamê de, ji ya Ehmedînijad zêdetir bûye. Ew rejîma di rastî de jêve ye ku her tiştî dizane, û weliyê feqîh xwe wekî Îmamê zeman dihesibîne, û hatiye girêdan bi esman ve, tu çawa dikarî qise li ser qiseyên kesekî wisa bikî, yan tiştekî bêjî ku ji ya wî baştir be?! Lewra sîstemên bi vî rengî reforman hilnagrin.

Sivîl: Di xwendina pirtûka we de "Nisko û Dabiran" te bêhêvîtiyeke zaf heye, ku rojekê ji rojan rejîma Îranê qebûl bike ku kêşeya Kurd bi awayekî aştîxwazane çareser bike, te çi hêviyek heye ku bi awayekî aştîxwazane rojekê ji rojan digel Komara Îslamiya Îranê hûn li ser mafê Kurdan li hev bikin?

Bersiv: Ya ku min bas kiriye, ji rûyê bêhêvîtiyê ve nine, di vî warî de ye ku xelk wekî reformxwaz li benda wê nebin ku rejîma Îslamiya Îranê maf û azadiyeke herî kêm jî bide xelkê Îranê, lewra bila hêza xwe kom bikin ji bo herifandina vê rejîmê. Ji ber ku hekî rejîm bimîne, tu egerek tuneye bo reformê û dana mafê Kurdan û pêkhateyên din. Wê hikûmetê bawerî bi tiştekî nine bi navê mafê Kurd û Ereb û Belûç û pêkhateyên din. Wan axûndane gellek baş derûnnasiya xelkê Îranê nasîne, û dizanin ku xelk çiqas dijî wan in, û kerbê wan ji rejîmê vedibe. Lewra baş dizanin ku hekî kêmtirîn azadî û derfet bi wan bihê dayîn, êdî hikûmeta wan namîne. Valahiya di navbera xelkê Îranê û rejîmê ew qas berfireh bûye ku êdî niha nahê tejîkirin, û bawewrî di navbera wan de nemaye. Lewra min li ber bêhêvîtiyê ew yek negotiye, lê dibêjim ku xelk bedela vê ku bi navê reformê ve hêz û şiyana xwe bi vî awayî xerc bike, û here girtîgehê, dibe ku hêzên xwe kom bike û xwe bi rêkxistin bike, bona vê ku vê hikûmetê biherifîne, hekî dixwazin ku bigihîjin azadiyê.

Sivîl: We çima TISHK TV dixist? Li ber nebûna şiyana darayî bû, yan nebûna kadirên ragehandinkar ên hewce?

Bersiv: Ew yek bi sedema kêşeya darayî bû, li ber nebûna têçûya kanalê bû, heya wê demê ku me bawerî tunebe ku em bikarin bi awayekî baştir berdewamiyê pê bidin, renge ew kanal dest bi kar nebe, ceribandina pêşîn şaşî tê de hebûn, lê vê carê ceribandinên me baştir dibin. Di hember vê yekê de emê hewl bidin wan ragehandinên xwe yên din wekî malperên xwe bihêztir bikin.

Sivîl: Encama karê wê lêjneya ku hatibû pêkanîn ji bo lêkolîna li ser bûyera êrîşa li ser kempa we, ji aliyê polîs û asayişa Koyê ve, çi lê hat?

Bersiv: Em jî her çavnihêrê encama wê ne, ji ber ku wê demê hevalên lêjneyê hatin cem me, û gotin ku wê lêkolînê bikin û tawanbaran wê ceza bikin, lê gotin dem hewce ye heya ku lêkolînên me digihîjin encamê. Heya niha encama wê bi me ranegihandine.
Sivîl: Tu hêviyek bi vê lêjneyê heye ku encamek hebe, yan wekî lêjneyên din e ku bona jibîrkirina kêşeyan tê pêkanîn?
Bersiv: Di rastî de em heya niha jî her hêvîdar in ku ew keysa bi vî rengî nebe, û em bêhêvî nebûne.